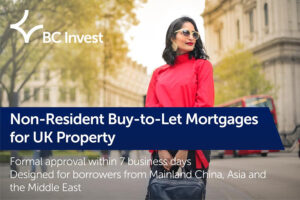 BC Invest has an updated product range!
They have reduced their rates and removed several premiums to be more competitive in this challenging economic environment. They have also simplified their pricing and LTV process to ensure a smooth journey for their customers.
BC Invest are also now offering a swift refinance product. BC Reset, is for customers looking to refinance their existing loan with reduced document requirement and significantly lower establishment fees.
BC Invest are a specialist lender, providing BTL Mortgages for overseas investors with no footprint in the UK. BC Invest's structure offers a swift and repeatable solution to this underserviced area of the market where many other lenders do not operate.
BC Invest can offer:
Loans from £75,000 to £1,500,000
Up to 75% LTV
Approval in Principle within 48 Hours of application
Formal approval within 7 business days
Wide acceptable area and country parameters including Hong Kong SAR, Singapore, Mainland China and the UAE.
No proof of income required
No UK bank account required
No minimum income
Reduced rates for the first year
Multilingual staff
Contact BC today to book in a call with their team to see how they may be able to help or to become an accredited broker.
Download their product guides and their acceptable country list below:
For BC Gem, click here.
For BC Regal, click here.
For BC Easy, click here.
For BC Reset, click here.
For Acceptable Area & Country List, click here.