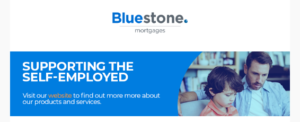 Did you know that the level of self-employment is on the rise in the UK? According to ONS data, by the fourth quarter (Oct to Dec) of 2019, there were more than 5 million self-employed people in the UK, up from 3.2 million in 2000. Self-employment has contributed strongly to employment growth in the labour market, with self-employed people representing 15.3% of employment, up from 12% in 2000. Many of which may have complex incomes, believing they may struggle to get a mortgage but this isn't always true.
Fortunately, help is available through specialist lenders like Bluestone Mortgages who offer alternative options to enable your customers to own a home despite having a complex income. We know that in some cases, the self-employed have a slim chance of securing a mortgage on the high-street, however, with Bluestone, there's usually a solution.
Our self-employment criteria allow:
Minimum 1 years trading
Latest years of accounts used for affordability
Ltd Company 100% shareholder – Net profit as well as salary
Change in self-employment status – we will treat as a continuous period
Can accept accountants certificate to verify income (for companies trading 2 years or less)
Capital raising for business purposes
There can be no doubt that we are operating in a disrupted market environment, and over the past few weeks, we have been working hard to get back to what we do best, which is provide great service, high-quality specialist underwriting decisions, and most importantly strong outcomes for our intermediary partners and their customers.
Please visit our Complex Credit Page to find out how or alternatively, login to Bluelink to submit a DIP with us. Your usual business contact may not be available, however, we are on hand to help with all new enquiries. Please contact us on 0800 368 1833 for assistance.
Thanks for your support and we look forward to working together!
Thanks,
Bluestone Mortgages
T: 0800 368 1833