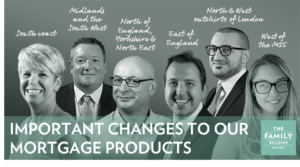 We've made some changes to our mortgage product range with immediate effect:
The majority of our mortgage products have been withdrawn and replaced.
Interest rates for our Buy to Let products remain unchanged, with the exception of our Expat products.
We've launched a new range of Joint Mortgage Sole Owner (JMSO) products for Owner Occupiers.
Our Buy to Let Limited Company products now have separate product codes and a fixed product fee.
We now offer £500 cashback for all Owner Occupier remortgage applications, which can be put towards legal costs. We will no longer offer our in-house Legal Services department for remortgage applications, but they will continue to work on any applications in the pipeline.
We continue to offer £250 cashback for Family Mortgage applications, and £100 cashback for Offset applications.
We have updated our Intermediary website to make it easy for you to find products based on your clients' needs. We've also added all our product switch and further advance products to the site.
Completion deadline for new fixed rate products is 01/07/2021.
See full details of our product range here.
A reminder – the deadline for receipt of applications for all withdrawn mortgage products is 5pm on Monday 1 February, both through our Mortgage Hub and by paper. 
We have a team of BDMs ready, willing and able to answer any of your queries and guide you through the application process. If you don't have a BDM in your area, you can contact our dedicated Mortgage Desk.
Please see attached the semi-exclusive product guides