Welcome to our brand new Fraud Newsletter!
We are excited to announce the launch of a new Fraud bi-annual newsletter for our Intermediary partners. We hope that you will find the information included useful. Any feedback is more than welcome and can be forwarded to our dedicated team inbox address intermediary.risk.management@hsbc.co.uk.
H1 2021 in numbers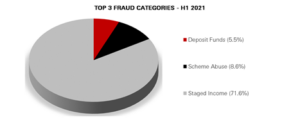 Unsurprisingly, the top reason for cases being declined in H1 2021 has been Income & Employment Fraud (Staged Income) including both employed and self-employed applicants (over 70% of all prevented cases).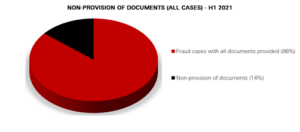 Non-provision of documents is still a hot topic and on average 1 in 7 cases where fraud is suspected we did not receive the documents requested on an application. It is really important if our underwriters have asked for further documentation to update our system with the documents or a note if they cannot be provided.  This can help with answering any outstanding queries and prevent any unnecessary markers being held against customers.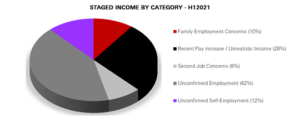 When we look at Income & Employment Fraud in more detail we can see that the main area of concern is around unconfirmed employment where an applicant's employment details are inconsistent and lack overall transparency.  Although documents might match each other and everything seems correct at first glance a case could still fail an overall plausibility test. In H1 we saw cases where recent pay increases caused concerns and often this is around the timing such as just before a mortgage application or the income stated is unrealistic based on the size of firm or experience of the customer.
Areas of Focus
Deductions on pay slips
How often do you review the deductions on pay slips? Do the amounts make sense?
We recommend that when reviewing pay slips you also look at the deductions.  We know that deductions are mostly positive as many falsified pay slips forget to include them, but when reviewing pay slips you should also sense check that the deductions shown match the customers personal circumstances, role, and employment details.  If the deductions appear suspiciously high then that also could be a red flag.
Misuse of government support schemes
We see some suspicious cases which are related to misuse of government support schemes such as Bounce Back Loans being used for house deposits or SEISS grants being taken but then the customer confirming that the business has not been affected. All lenders differ in terms of policies on accepting furlough / self-employed grants so please refer the case to Business Development Manager or your Compliance function if in doubt.  We would recommend if the customer has taken government support then please provide as much information as possible when submitting an application.
Another common reasons for cases being declined is due to scheme abuse and here are a few scenarios which should be a prompt for further questioning:
Commuting distance between place of work and new home is not realistic.
Applicant with partner and children is applying for a much smaller property comparing to where they currently reside and vice versa, applicant is moving from 1 bed flat to 6 bed house.
Applicant is working permanently in different country and claiming they will return to the UK in near future without any hard evidence.
 Applicant is declaring job relocation without any proof from their employer.
Gifted deposits or accumulated savings
We often see cases where a significant deposit has been either gifted or accumulated through savings. There is nothing wrong with using 'bank of Mum & Dad' but be cautious and question further if this deposit has come from large lump sum gifts from multiple parties to the applicants. In relation to savings used for the deposit, is it plausible that an applicant was able to put aside nearly their whole salary in one year? Has there been multiple credits from unknown sources on applicant's bank statements that would raise a suspicion? Has the applicant been employed long enough to save the stated deposit? We see some cases where the deposit source doesn't add up so please question further.
Due Diligence
To help in reducing unnecessary queries and delays please continue to submit cases with accurate information and notes giving more detail if required.
On applications at times we see errors or missing information such as employment start dates being incorrect or properties not being declared. If accurate information is provided at first submission then this can prevent any unnecessary questions being asked and unnecessary delays to the application journey. It can also make the difference in an application being declined or being accepted.  Any additional information you have to help us to understand the application then please continue to add these in the comments section as quite often that little bit more detail means we can move to approval much quicker and avoid certain questions.
Webinars & Presentations
During Q4 the Intermediary Risk team are running 3 Fraud Prevention Webinar's which will last around 40 minutes. We would like to invite you and your teams to join us on any of the following dates and times:
Tuesday 21st September @ 2:30pm.
https://hsbc.zoom.us/webinar/register/WN_QGidl_N-Q3KbHAg2be5SCQ
Thursday 14th October @ 10:00am
https://hsbc.zoom.us/webinar/register/WN_1nq56pJeQ3KZhww0lmb44w
Wednesday 17th November @ 11:00am
https://hsbc.zoom.us/webinar/register/WN_47WBJF2CShqOzjbZ9ygAxQ
To register for the Webinar, please click on your preferred day and time above, and enter your details. Once confirmed, please save the invite to your diary.  There will be a reminder set one week before, one day before and one hour before the Webinar will begin.
There is also some more exciting news! A brand new series of Fraud Masterclasses targeting and providing insight into specific fraud categories will be launched in the near future!  The webinars will be scheduled in a similar way to above Fraud Prevention and Cybersecurity presentations so watch out for further details from the risk team.
HSBC Fraud and Cyber Awareness app is live!
In June 2021 HSBC UK became the first high-street bank to launch a free news-style mobile app to help British businesses fight back against fraudsters and prevent them falling victim to scams. The fraud awareness app is providing all businesses with up-to-date trends, fraud information and provides tips and advice on the signs to be aware of.
In the private sector, it's estimated by the National Crime Agency that financial fraud costs UK businesses approximately £140 billion a year – that's over £4000 a second!
The app provides frequently updated content from our HSBC fraud and cyber experts in the form of engaging articles, guides and videos. Stay notified of trending scams as they emerge with handy notifications, via the alerts feature.
Whether you're a HSBC commercial banking customer or not, download this free app, by simply searching 'HSBC Fraud and Cyber Awareness' on the iOS or android app store today.