Good Morning Liz
We hope this newsletter finds you well now that lockdown is loosening, and the property market is starting to show the green shoots of recovery.
Here at Landbay, we've been busy. We held our second Q&A webinar with Mortgage Introducer on the BTL market, which had over 500 attendees. This event was closely followed by the relaunch of our product range, which sees the return of 75% LTV products featuring a refreshed HMO & MUFB offering alongside a brand new range of New Build products.
Our latest product and criteria guide is now available on our website. Your local BDM is here to support you with any questions.
Return of 75% LTV
Discover our refreshed product range for June, which sees the return of 75% LTV and physical valuations. We've also added brand new New Build options as well as enhanced HMO & MUFB offerings.
Webinar on-demand
Watch our second webinar, "What's next for the BTL Market?" with John Goodall and Tony Ward as they provide insights and discuss the latest developments in the BTL space.
Latest blog post
Julian Cork, Landbay's COO highlights his five focus areas for maintaining a successful business during the lockdown: operational risk, maintaining employee engagement and being future-ready.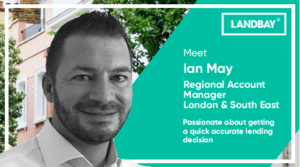 Ian joined us in June 2019 having spent 25 years in a variety of roles in Financial Services.
The last 5 years have been spent in specialist buy-to-let, managing underwriters and working closely with Brokers to ensure a great customer service throughout the full mortgage process.
Ian is passionate about getting a quick accurate lending decision to help brokers provide the best service to landlords. Plus he loves a round of golf!
To get in touch with Ian, please use our BDM Finder.
Events update
Due to the impact that COVID-19 is having on the industry, we'll be planning more virtual events in the near future. See keep a look out for invites…
Webinar – Landbay & Mortgage Introducer – July 8th – "Q&A Session"
Webinar – Peter Faulds & Paul Clampin – TBC – "Valuations & Credit"
Remember, we are always only a phone call away and will respond to all emails within 24 hours.
Contact us on 020 7096 2700 or email us at enquiries@landbay.co.uk