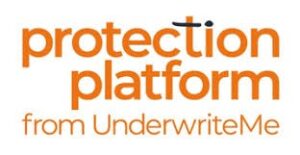 'Lunch & learn' session – Underwritten premiums in minutes with UnderwriteMe
Join UnderwriteMe's John Revill and Steve Brown as they show you the power of the Protection Platform.
Save time with one application
Their technology allows you to make one application to multiple providers. You can then complete the application directly from the system – meaning no delays or rekeying (not even for bank details).
It's free for advisers to use
This 'free to use' system integrates with your current protection provider agencies, meaning no complex set-up process.
Compare fully underwritten premiums
Best of all, in real time, the Protection Platform allows you to compare fully underwritten premiums to help you manage client expectations as early as possible.
A better experience for your client
The Protection Platform puts the control back in your hands. It will help you build trust with your clients by giving them clear outcomes from multiple insurers and it also gives you confidence that you've made the right recommendations.
Suitable for those of you who are new to protection and also for the more experienced advisers
Connect recommends UnderwriteMe as a great stepping on point for advisers who are new to protection. You'll get used to a single question set and have a smaller panel of providers to get to grips with. Then, once you're feeling confident, you can use UnderwriteMe alongside your iPipeline system.
For those of you who are more experienced, UnderwriteMe's Protection Platform is a great tool for those clients with more complex health conditions.
By the end of the session you should:
Have an overview of who UnderwriteMe are
Understand the specific elements of the protection application process that cause inefficiencies
Understand how by using technology, these inefficiencies can be reduced
Understand what the Protection Platform is and see how it can benefit you and your clients
Be able to register to use the Protection Platform
John and Steve will also review how other industries have progressed their application journeys over the years and compare that with how the protection application journey has adapted.
They'll look into the specific elements of the process that cause the biggest inefficiencies and show how, by using technology, advisers and clients can benefit from the improvements made at these key points.
The session will also show how the industry has collaborated during the COVID-19 pandemic and the positive impact this has had for advisers and clients – such as remaining open for business and allowing customers to still get access to life insurance throughout 2020/2021.
UnderwriteMe will also share their own specific experiences of the pandemic, giving an insight into the trends they've seen.
Protection 'lunch & learn' – you bring your sandwiches; we'll bring the lesson!
Please register here.
After registering you'll receive a confirmation email containing information about joining the training session.
Love Lunch & Learn? Sign up for Q3 sessions here.