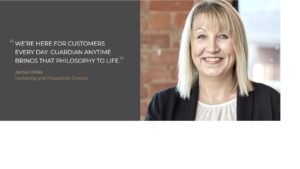 Why? Well, they're a provider with a new proposition designed by a team of industry experts, including ex-Bright Grey directors and heads. These are some of the team who pioneered 'value-add' with 'Helping Hand', so they definitely know what makes a genuinely meaningful add-on.
Hayley herself says: As an industry, we've often talked over the years about value-added services, and whether or not these are actually 'valuable' to clients.
The difference now though is that there's no need to speculate any more. The pandemic has proven the value, without any shadow of a doubt.
During the last 16 months value-added services have really come into their own, particularly with a surge in the use of virtual GP services. After all, seeing a GP in person became impossible for most of the UK at some point in 2020.
As an adviser, recommending a policy that comes with benefits that your clients can use straight-away, really brings to life the value of your advice. After all, 'value-add' isn't a field your client could (or would) pop into 'Go Compare' alongside 'cheapest', is it? Yet a robust menu of additional features can be the differentiator between 2 otherwise apparently identical products.
In this session Hayley will share details of Guardian's value-added services: Guardian Anytime, the support service available to every policy holder from day one. And HALO, Guardian's truly personal claims service.
Hayley will end the session with a quick reminder of a few other reasons to choose Guardian – covering their market-leading terminal illness definition, their dual life approach, and optional children's critical illness cover.
Learning objectives
Learn about Guardian's value-added services and how they can benefit your clients
Understand how to explain the importance of value-added services
Discuss how not all life cover is the same, and how it's important to look beyond just the price
This is session 3 in our 'added-value' month and it will bring you the perspective of a provider with truly innovative proposition.
Protection 'lunch & learn' – You bring your sandwiches; we'll bring the lesson!
Please register at: https://attendee.gototraining.com/7v9g9/catalog/5132964896683706112
After registering you'll receive a confirmation email containing information about joining the training session.
Love Lunch & Learn? Sign up for Q3 sessions here.