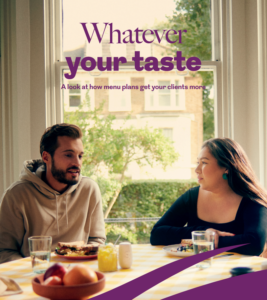 A menu plan is an excellent way of protecting your clients' needs without breaking the budget.  Using menus to flex term, sum assured and deferred periods, (as well as other options), can really prove the value of your advice.
But it can be complicated and time consuming – like a horrible maths puzzle that you really don't want to do; re-running quotes and tweaking options… If only there was an easier way to give your clients an idea about the cost of a budget, middle-of-the-road or all-singing protection plan without loads of rekeying… Luckily Royal London have come up with a tool to do just that.
Join Gregor Sked for a session that will explore ideas to help you have compelling menu conversations – including showing you the tools to demonstrate the risk, the probability of making a claim, the new Royal London Menu Tool, plus simple ideas to uncover any protection gaps.
The session will also consider which clients could benefit from a Menu Plan approach and why, show you how to build a solution and evaluate the advantages of a menu plan approach versus a more traditional way of arranging protection policies.
Finally, he'll share recent enhancements to the 'Helping Hand' added-value benefit, including online access for plan owners to a range of handpicked well-being services to help your clients stay fit and healthy whilst managing both their physical and mental health.
Come along on Friday (11th) and leave with a better understanding of the advantages of writing policies in a Menu Plan for both clients and advisers.
You'll also understand how to use the Royal London Adviser tools to help you have more compelling menu conversations.
So if you want to confidently build a cost-effective menu-based solution to suit every client's needs  – you know what to do!
Protection 'lunch & learn' – You bring your sandwiches; we'll bring the lesson!
Please register here.
After registering you'll receive a confirmation email containing information about joining the training session.
Love Lunch & Learn? Sign up for all of the Q1 sessions here.