Great news! We have reduced our all 90% and 95% LTV rates by 0.20%, including our recently enhanced Professional Range which now includes high earning customers.
We have also increased our maximum loan size at 95% LTV to £675,000 aligning it to our 90% LTV maximum loan size.
New rates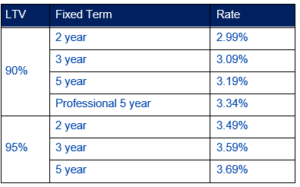 Please note: 90% and 95% LTV products may be withdrawn at short notice. For full details, please refer to our Mortgage Lending Criteria Guided and Product Guide.
Contact 
Our BDM Team are here and available to help with new case queries. Please get in touch with your BDM or call our Broker helpdesk on 02034271019. Find your nearest BDM here.