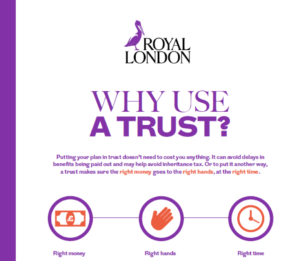 'Lunch & learn' session – Better protection outcomes – Trusts with Royal London
Join presenter Vincent O'Connor from Royal London as he presents:
'Better Protection Outcomes – Right money, right hands, right time', Royal London's conversation around trusts.
Just what are trusts? Why are they so important? And why do they feel so complicated?
If you're asking yourself these questions, we've got the right man, from the right company, to answer them for you.
Further reading: Royal London launched its hugely successful 'Good parent portfolio' back in 2009 and it's remained a 'go to' set of material ever since. The portfolio discusses trusts, wills and guardianship arrangements – all massive opportunities for you to get leads and write more protection.  The Good Parent Portfolio – make a note to come back to it once you've been on this 'lunch & learn'.
At the end of the 'Better protection outcomes' session you will:
Be able to identify the key benefits for advising and recommending the use of trusts for protection policies
• Be able to download and complete a Royal London trust form for a protection plan
• Understand the importance of the letter of wishes and why this should be reviewed periodically
• Nominate beneficiaries as part of the Royal London application journey without the need for a trust
The presentation will last for around 45 minutes and there will be time for questions at the end. You'll earn CPD points for attending the session so don't forget to collect your certificate and if you complete the test that will be published in the week after the session, you'll earn bonus CPD points too.
Protection 'lunch & learn' – You bring your sandwiches; we'll bring the lesson!
Please register at:
https://attendee.gototraining.com/7v9g9/catalog/5985854963764933632
After registering you will receive a confirmation email containing information about joining the training.
And don't forget, you can sign up for all the Q1 sessions there too.