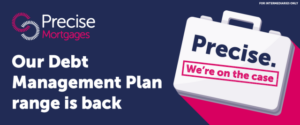 NEW: Customer with an active DMP? No problem.
For those with less-than-perfect credit histories or Debt Management Plans (DMPs) getting a mortgage could feel like an uphill battle.
Well, Precise Mortgages have great news! Their range of residential mortgage products has now been expanded to include options for your customers that have an active or newly satisfied DMP or debt arrangement scheme (DAS).
Active DMPs and DMPs settled within the last 36 months accepted
2 year fixed from 3.29%
5 year fixed from 3.44%
LTVs up to 85%
Fixed fees and refund of valuation on all products
Those with complex income need a specialist lender like Precise, one who's experienced with these types of situations. They're on the case!
For their online criteria, click here.