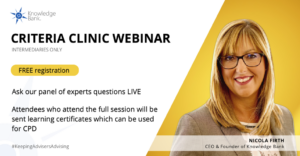 Monday 10th January at 10am
Register for FREE here.
Knowledge Bank Criteria Clinics are back with a bang for 2022!
Their first stop on the carousel of criteria will provide knowledge around capital raising on a remortgage!
Capital raising can be a very effective way of raising money that can be used for a multitude of things – but would you know which lenders would accept raising capital against certain property types, who would be the most efficient in terms of LTVs or what lenders class as an acceptable use of the raised funds?
Find out by attending their next Criteria Clinic, which is focusing on Remortgages (Capital Raising)! Joining Nicola to discuss this, answer your questions, and help you place cases LIVE are:
Chris Kirby – Key Account Manager – New Build & National Accounts, Kensington Mortgages
Paula Priest – National Account Manager, Foundation Home Loans
Martin Burgess – Business Development Manager, Metro Bank
Jean Errington – Business Development Manager, Harpenden BS
REMEMBER: Register for FREE here.
To view all future events being held by Knowledge Bank or those they are participating in, please click here.
Attendees who attend the full session will be sent learning certificates which can be used for CPD.
Knowledge Bank encourage brokers to ask questions during the event, but if you would like to provide them with any questions you have in advance, please supply when registering below. They will do their best to get through as many as possible during the live session.