We have REDUCED RATES across our 75% LTV Buy-to-Let range. Basic criteria below: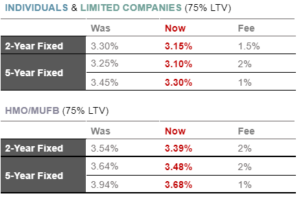 You can view our full product range and related criteria here.
CHL Basics
BTL Only Lender + LTDco, HMO and MUFB
Unlicensed HMO on Std Product
20K Min across application from most sources
Flats above commercial up to 75%
Gifted deposits
Inter Family Sale
X Local authority flats with desk access at 70%
Flats with connected freeholder and leaseholder
Day 1 remo (conditions apply)
No preferred solicitors for LTDco applications
See criteria guide here.
For more information you can contact:
Paul.Flude@chlmortgages.co.uk or call 07974614032.