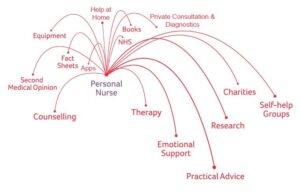 When Scottish Widows re-joined the intermediary protection market back in 2015, its proposition development team had spent many months building a product that was a solid all-rounder. No big 'bells and whistles' over here and a whimper over there – but rather a robust, good-quality life and critical illness offering.
Something that was of paramount importance to the development team was making sure that Scottish Widows Protect included some meaningful added value services. Cinema vouchers and reduced gym memberships were reviewed and discarded because they felt frivolous and disconnected from the product. So the team met with RedArc Assured Ltd, who had partnered with Bright Grey back in 2003 and supported their revolutionary Helping Hand, and created Scottish Widows Care.
In this final session in our 'added-value' month of lunch & learns, presenter Lee Morgan of Scottish Widows is joined by special guest, Christine Husbands of RedArc. Join them as they talk about Scottish Widows Care and the services RedArc offer Scottish Widows Protect policy-holders and their families.
Christine Husbands is RedArc's managing director and has held the role since 2010. She is very proud to be helping so many people at what is often the most difficult time of their lives but at the same time she has held many board level positions within financial services and enjoys the commercial business challenges that RedArc presents.
Lee and Christine will explain what Scottish Widows Care is and show you how it can help your clients without them having to make a claim on the policy.
You'll learn about RedArc's services and understand how they can help your clients with a whole range of emotional, practical, and medical needs. They'll also share with you some real-life case studies that show the difference these services can make to a client's life.
This is the final session in our 'added-value' services month, so if you haven't joined any to date, DO NOT MISS this one – RedArc work with most providers in the marketplace – and you'll hear directly from their director.
Protection 'lunch & learn' – you bring your sandwiches; we'll bring the lesson!
Please register here.
After registering you'll receive a confirmation email containing information about joining the training session.
Love Lunch & Learn? Sign up for Q3 sessions here.