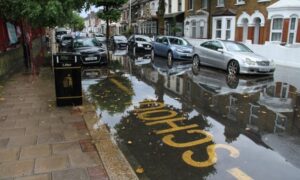 HELPING YOUR CLIENTS IN BAD WEATHER
With bad weather warnings continuing up and down the UK, now is a really important time to encourage your clients to think about any extra protection their home might need – both in terms of maintenance and insurance.
Advisers have a vital role to play when it comes to making sure clients have adequate home insurance in place for their needs and that they fully understand what their policy will and won't cover them for.  You might not think it, but you also need to stress how important it is that your clients have good home maintenance as this may help lessen, or completely avoid, damage to their homes.
With an expected drop in temperatures, checking on the condition of the boiler and making sure it's regularly serviced is crucial, as is bleeding any radiators. Checking pipes and water pressure is a good way to detect any leaks before it's too late too.
Clients should also make sure their roof and gutters are well looked after, by replacing any missing tiles, for example, and by regularly clearing out any drains and gutters. This helps prevent water damage or damp.
The other reason why reminding clients to keep on top of home maintenance is so important is because home insurance is designed to cover the cost of repairing damage or replacing items after an unexpected and unavoidable event.
It will not cover clients for damage which was inevitable due to their home being in a poor state to begin with.
Paymentshield have created 3 handy guides – flood, storm, freezing temperatures – which you can share with your clients to show them how to protect their home in bad weather;
Download the guides here.
With the British weather changing regularly, making sure clients have the right protection in place and are looking after their homes can give much needed reassurance and protection in the colder months.
HOW TO DEAL WITH A CLAIM
And if the weathermen DO get it right and your clients have to make a house-insurance claim, here's some helpful information:
Any clients who've experienced damage to their home should try to gather together important things that they're likely to need over the coming days, such as their phone and charger, medication, identification, important documentation (such as their insurance documents), and clothes, and find a safe place to keep them.
The insurer will want to know your client's name, address and contact information and to confirm their policy number. They'll also ask for information about when the damage happened and ask for a description of the damage to the building/home, as well as of any belongings which have been lost or damaged.
It can be a good idea for your clients to take pictures of the damage to their home – if it's safe for them to do so. And they should get in touch with their insurer as soon as possible.
At the very least, remind your clients to make a note of their insurer's claims phone number.  This number can usually be found in their policy documents, or if they aren't sure and have a Paymentshield Home Insurance policy they can visit Paymentshield's website here.
If your clients are a Paymentshield policyholder with Home Emergency cover they can call the Home Emergency helpline on 0800 300 684, 24 hours a day, for help with a range of emergency events, such as loss of electricity or central heating.
To find out more about Paymentshield's Home Insurance call their Sales Team on 03450615700.
And even if the weather doesn't turn out to be as bleak as forecast, winter is a great time to talk to your clients about reviewing their home insurance and making sure it's up to scratch!