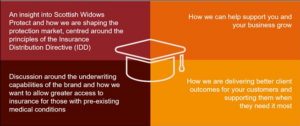 Join presenter Lee Morgan of Scottish Widows as he discusses Scottish Widows Protect's approach to shaping the protection market.
He'll talk about the principles of the IDD (but promises it won't be boring!) as well as the importance of access to insurance, especially for those with pre-existing medical conditions.
This session will help you understand the regulatory framework within which your protection advice sits. It's a must for protection writers!
And those of you who know Lee will appreciate his understanding of the challenges you can face as advisers, based on his own experience of being in your shoes.
Protection 'lunch & learn' – you bring your sandwiches; we'll bring the lesson!
Please register here.
After registering you'll receive a confirmation email containing information about joining the training session.
Love Lunch & Learn? Sign up for our new Q4 sessions here.