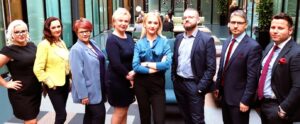 You may know that Umbrella Protect, Connect's referral partner, are experts in protection insurance but you may not have realised they can also do general insurance AND private medical insurance for your clients. One referral from you, and your clients get specialist attention from a dedicated adviser for all three products.
It could not be simpler.
Let's break that list down even further in the products and covers Umbrella can offer to your clients:
Homeowners:
Protection insurance
Mortgage protection life cover – to repay the mortgage debt in case of death.
Mortgage protection critical illness and disability cover – to repay the mortgage debt in case of a prolonged absence from work due to critical illness or total and permanent disability.
Income protection – to protect monthly mortgage payments in the event of accident or illness.
Critical illness cover for children – providing an income for a parent if they have to take unpaid leave to care for their child during treatment.
Family income benefit – to provide an income for a family in the case of the critical illness or death of the main breadwinner.
Standard life cover – to protect partners, husbands, wives and families in the case of a loved one's death.
Whole of life cover – to cover funeral expenses or to manage inheritance tax liabilities for your client's family.
General insurance
Buildings insurance – to protect the building, a compulsory cover for mortgage lenders.
Contents insurance – to protect the home contents (furniture, expensive items, jewellery, gadget) against damage as well loss or theft.
Landlords:
Landlords' insurance covers against risks related to a buy-to-let property and rental activity. Most policies start with buildings insurance and property owners' liability insurance.
They may also need other covers e.g. for loss of rent, tenant default or accidental damage, depending on their situation.
Tenants:
Income protection cover – to protect a tenant's monthly earnings. To enable them to keep paying their rent, if unable to work, due to an accident or illness.
Family protection: life cover, critical Illness cover, children's cover.
Accident plans: offering cover against loss of income from hospitalisation, accidents or fractures.
PMI: Private medical insurance.
Business owners:
Key person cover – to protect a business from the financial impact of the loss of a key person, e.g. the subject matter expert, or top salesman, or the property manager of a BTL portfolio.
Shareholder protection – to help a business buy back shares from an unwanted inheritor, in the event of the death of a shareholder.
Relevant life cover – a tax efficient way to offer death in service benefit to employees (including directors) without the need for, or alongside, a pension scheme.
Group private medical insurance – a tax efficient way for a small business to give an employee benefit.
With all that expert advice on tap for your clients – why not refer to Umbrella today? Or hear from someone who has… Or get it straight from Umbrella themselves!
Remember, if you're not talking to your clients about general insurance for properties you've arranged mortgages for, you could be letting them under-insure themselves against future risk.
However, if you're not talking to your clients about protection, you could be leaving yourself exposed to client complaints in the future. Don't let that happen. Protect your clients and protect yourself!